Lena Bauernberger
Dorfnerstrasse 23
3390 Melk
0043 676 4292580
office@el-be.at
Bei Fragen zu Verfügbarkeit,
Preis und Versand der Produkte
gebe ich gerne Auskunft.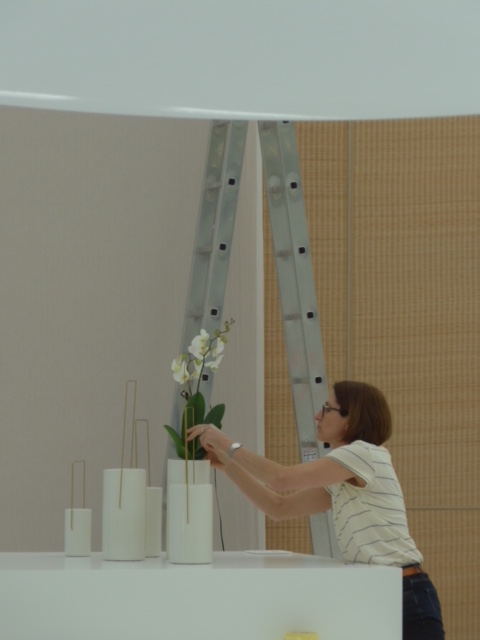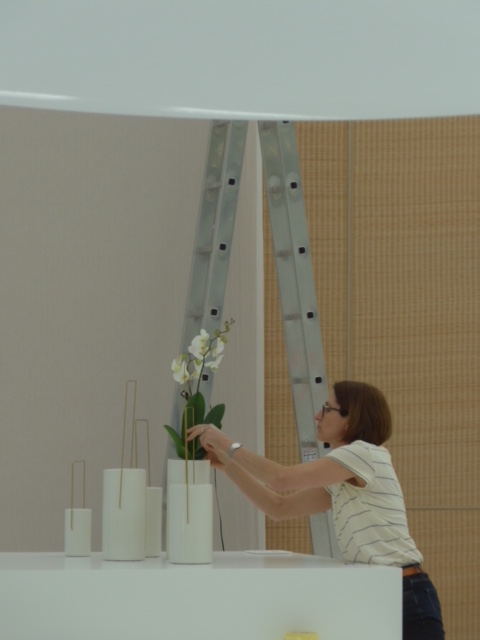 Lena Bauernberger entwirft und entwickelt alltagsfähige Keramikgefäße und erzeugt kleine Serien und Unikate in Handarbeit. Seit 2008 betreibt die Designerin eine kleine Manufaktur mit Atelier und Verkaufsraum in Melk an der Donau.
Für Ihre Arbeiten aus meist weißer Keramik bevorzugt sie einfache und klare Formen wie Zylinder, Quader und Kugel. Grafische Dekore werden in der Technik der Unterglasurmalerei gemalt. Häufig ergänzt Lena Bauernberger Materialien wie Leder, Silber, Kupfer, Messing, Holz und Glas sowie textile Elemente und steigert so die Funktionalität ihrer Produkte.
Es entstehen unverwechselbare Gebrauchsgegenstände, die sich durch Einfachheit im Gebrauch und Liebe zum Detail auszeichnen. Einige Arbeiten sind nach individuellem Kundenwunsch personalisierbar.
Lena Bauernberger designs and produces small batches of pottery in Melk, Lower Austria. There she runs her own studio with a small factory and sales area since 2008.
The white, simple and clear ceramics are mostly cylindrical, cubical or spherical. Some graphic decors are painted in the technique of under-glaze painting.
Often Lena Bauernberger adds materials such as leather, silver, copper, brass, wood, glass and textile elements to enhance the functionality of the products. Thus a range of very unique objects for everyday usage is being produced, which is characerised by simplicity in apperarance and attention to detail. Some of the designs can also be customized.
Ausstellungen / Exhibitions
Shops
2019
Austrian Design – Pleasure & Treasure
Stazione Milano Centrale - Sala Reale
Piazza Luigi di Savoia 1
20124 Milano
9.-14.4.2019

2018

Die Presse u201e DESIGN 2018u201c
MAK, 1030 Wien
16.11.- 18.11.2018

Keramik und Porzellan im Augarten
1020 Wien
28. 9. - 30. 9. 2018

2017
AUSTRIAN DESIGN COMPOSITIONS
Galerie der österreichischen Botschaft
Berlin
23.11.2017
RIENNA und Contemorary Design Shop
Schauflergasse 2,
1010 Wien
8.11.2017 bis 31.1.2018
WIENER HANDWERK
Sofiensäle
1030 Wien
17. bis 19.11.2017
Die Presse u201e DESIGN 2017u201c
MAK, 1030 Wien
10.11. bis 12.11.2017
Dutch Design Week
AUSTRIAN DESIGN COMPOSITIONS
Eindhoven
21.10. bis 29.10.2017
Designbiennale BIO in Ljubljana
Natural Selection
Stadtmuseum Ljubljana
5.10. bis 15.10.2017
Assembly Designfestival
Kunsthalle Graz
5.5. bis 7.5.2017
link1
link2
link3
SIT & SEE. Seating furniture and Lighting - designed in Austria
Zagreb Design Week 2017
9.5. bis 14.5.2017
link
2016
Die Presse Design 2016
Veranstaltungsort MAK Wien
11.11. bis 13.11.2016
link
Blickfang Wien
Veranstaltungsort MAK Wien
28.10. bis 30.10.2016
link1
link2
Keramik und Porzellan im Augarten
7.10. bis 9.10.2016
link1
link2
link3
Salone del Mobile 2016
back ahead & new austrian design perspectives
12.4.- 17.4. 2016
Location: Villa Necchi, Mailand
(link1, link2, link3)
2015
Programmpunkt der Kulturhauptstadt Pilsen 2015
Ausstellung u201eAUSTRIA up-to-date. Contemporary Design for everyday life.u201c
Pilsen, 7. bis 28.12.2015
Die Presse u201eDesign 2015u201c im MAK
13. bis 15.11.2015
Galerie Klovicevidvori, Zagreb
Ausstellung: für Angewandt & alltägliches
Juni 2015
Salone del Mobile 2015
AUSTRIAN DESIGN PIONEERS
Location: La Pelota, Mailand
8. bis 13.4.2014
(link1, link2)
MAK Designshop
After Work-Meeting Point
10.2.2015

2014
Blickfang Wien, MAK
14. bis 19.10.2014
Designblok Prag
AUSTRIA DESIGN & SUPRPRISINGLY INGENIOUS
Galerie Kritiku
30.9 bis 12.10.2014

Salone del Mobile 2014
CONFESSION OF DESIGN
Location: Rotonda della Besana, Mailand
8. bis 13.4.2014
(link1, link2, link3)
2013
18.10. bis 20.10.2013
Blickfang Wien, MAK